Nine Figure
OPERATORS
In the world of eCommerce, a legendary WhatsApp group is rumoured to hold the secrets to unimaginable success. The catch? You must have nine figures in revenue to gain entry. The worlds biggest brands have denied its existence for years, until now. Four titans known as "Operators" are leaking the secret contents in an effort to share its wealth of knowledge with people like you.
ALL EPISODES
LISTEN NOW
Start Listening Today
Latest Episodes
Show Sponsor
One of the secrets of the group is that most of the nine figure operators utilise Northbeam. Why? Because it's a universal attribution platform that uses multiple advanced data models to give modern brands confidence in their future, allowing them to scale profitably.

Find out more

Show Sponsor
More Tech.
Less Stack.
Unified email, SMS, and reviews for eCommerce. Better features. Better support. Better customer experience. The Operators are looking at moving from Klaviyo to Sendlane and you should too.
Find out more

Show Sponsor
Grow an efficient and profitable eCommerce store.
Fulfil is the only cloud ERP designed to efficiently scale 8 and 9 figure brands. Sean and Jason both use Fulfil.io and other
Operators are joining.

Find out more
The Top Episodes
Featured Episodes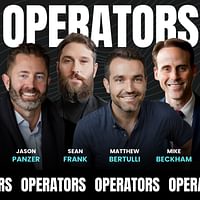 E033: Cyber Monday Results, Contract Manufacturing, Global Commerce Dynamics, Market Competition.

E032: Black Friday Results Show, Q5 Planning, Maximising December, Market Trends, OOH Ads & More
01:12:35

E031: Black Friday Special: Deals, Customer Experience, Operations, Success Metrics, Trends & More
01:09:20

E030: Amazon & Meta Join, Authentic Brands Group Welcome Shein, Ridge Launch Travel, Q4 Pulse Check.
01:01:53

E029: DSC Acquisition, ERP, Strategy, BFCM Tips. Plus Operators Are Joined by Sharoon CEO of Fulfil.
01:00:40

E028: Future of Chinese Manufacturing, Hello Bello Breakdown, Celebrities as Partners, Luxury Brands
00:56:11

E027: Building Houses, Price Sensitivity, Amazing Tech, Growth Teams, Strategic Planning & More
00:57:40

E026: Consumer Takeovers, AI VS VC, Zuck's Digital & Physical Infusion, Q4, Alo IPO & More
00:40:08

E025: Q3 Results, Global Growth, Scaling 1-10, Consumer Landscape Speculation, Interest Rates & More
01:17:52

E024: Aggregator Models Thrasio, Diversification, Ecom Acquisitions, Brand Value Longevity & More
00:52:23
Show Your Support
What People Are Saying
Podcastpage
The BEST Podcast
I actually don't ever listen to podcasts, but I will listen to every episode of this one. It genuinely makes me think about things differently and will definitely impact the business decisions I make.
Podcastpage
Love this pod
Really refreshing to hear true operators who are running best in class brands talk about their challenges. The hosts are so real. Hope this pod sticks around for a long time!
Join our exclusive slack group.
If you're a brand founder or operator you can join our group and we'll help you get to 9-figures. Click below or scan the QR code.
Meet ups and events

Special access to hosts
Request Access
We Rise Together
What happens when best in class 9 figure operators share their truths? Let's find out.